Pin It
I posted this project on my private blog a several months ago and have had several requests for more instructions on the how-to.
In our current house, we have giant mirrors above both of our upstairs sinks.  It would cost a fortune to buy a 'nice' mirror anywhere close to the right size for the spaces.  So I decided to try and frame them myself using crown molding to give them a more luxurious feel.  I've seen this concept on HGTV and found a tutorial of sorts from this blog.  I purchased the molding from and odds and ends sale at a local cabinet shop for next to nothing (try Craigslist or similar sites) and purchased paint colors to match the spaces.  For the brown mirror, my husband cut the 45 degree angles using his circular saw.  For the white mirror (the easier of the two)…we only had to make straight cuts due to the addition of corner rosettes (Home Depot or Lowes).  Sand, prime, and paint and you are ready to put them up.  I recommend using a non-matte paint only because it is much easier to clean.  We started from the bottom and worked our way around, gluing one piece at a time.  As recommended by Rhoda from Southern Hospitality, we used a glue gun.  She isn't lying, you have to get it right the first time because it adheres VERY strongly.  One tip:  when applying the glue, stay away from the inside edge by at least a half an inch.  Otherwise, you will see glue through the reflection in the mirror….we learned the hard way

  Also, if your mirror is large, I recommend applying the pieces as a 2-man job.  One person quickly applies the glue, the other quickly puts it into place.  You only have to apply pressure for 30 seconds or so before you can let go….try to apply pressure evenly across as much of the molding piece as you can physically manage.  I overlapped my mirror on the outside edge by about 1/4 inch because I didn't want to see the raw edge of the mirror from the side view.  Good luck!  Let me know if you have further questions.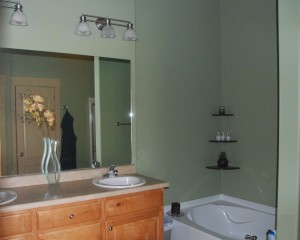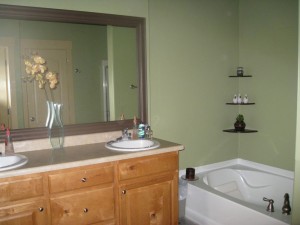 Don't have a 'before' shot for the second bathroom

Category: >$20, Decor, Uncategorized