Magnetic Paper Doll in a Tin
I love paper dolls.  Always have.  When I was browsing blogs several months back, I came across this adorable little one-page template of a paper doll designed by Hillary Lang of Wee Wonderfuls back in 2005.  Hillary was kind enough to give it to us as a freebie so I immediately downloaded it and filed it for use in some "future project."  As I was browsing through Michaels $1 section last weekend, I noticed that they had all of their Christmas items marked down 60% (looks like it is 80% now!).  There was a whole bin of these little gift card tins and I was pleased to find that not all of them had a Christmas theme on the front (see pics).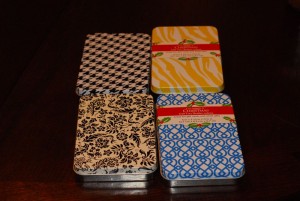 I wasn't sure what I was going to use them for, but I bought a whole slew of them knowing that I would be able to come up with multiple ideas for them that would be fun.  And then I remembered the paper dolls and thought….hmmm, what if I were to print them on magnetic inkjet sheets and then the tin becomes the magnetic surface and storage tote for the clothes and doll.  What little girl wouldn't LOVE that!!  I knew it was meant to be when I printed the dolls and found that they were an exact match for the tin in terms of size…no re-sizing necessary.  It was so fun and turned out so great that I want crank out a whole boat-load–oh how I love an easy project.  Although I was thinking, the little boys out there might be jealous….are you reading this Hillary?  A little companion boy download for this poor little gal who's been kickin' it solo for the past 5 years?  🙂
Now, if Michaels is fresh out of these tins, never fear, you can find them all over the place now…including the dollar store.  And you can mod-podge embellish the top of the tin to your heart's content….do whatever design you want with your favorite scrapbook paper.
Oh…I did put a layer of clear transfer paper (used with vinyl applications…kind of like contact paper) over the top of my printed sheet for durability…kind of like laminating the surfaces of the doll and her clothing/accessories…a good idea.  I did not cut all the way up between the legs on each of the outfits as well (see pics)…don't want the little one ripping them off. Oh…and word to the wise:  don't cut off the white part on collar of the white dress…it's…um…supposed to be there.  🙂