St. Patrick's Day Treat and Printable – Leprechaun Munch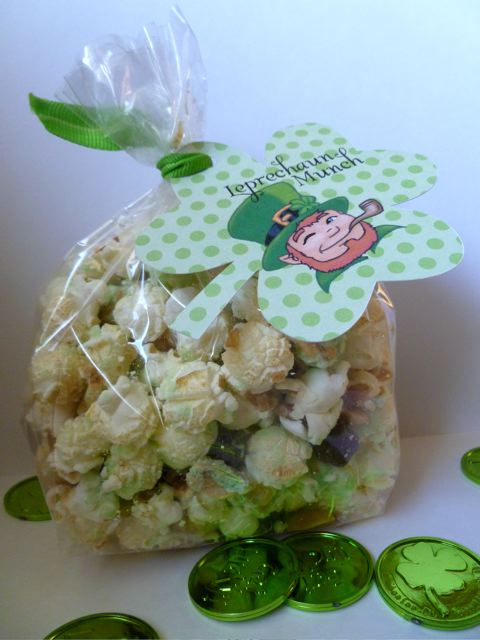 I have to say, this treat turned out so tasty. It was a total experiment and we loved the result–the combination of mint and chocolate with a little salty crunch was just right. Pretty much all of our supplies came from one of our favorite local kitchen stores, Orson Gygi. You can order supplies from them online if you are not local 🙂 Here's how to make some for yourself:
Ingredients:
10-12 Cups Caramel Seed Popcorn, popped (about 1/2 cup seed corn),
3/4-1 cup of white chocolate chips or candy melts
1-2 drops peppermint essential oil or peppermint extract (amount would probably be more like 1/4-1/2 tsp of that depending on how minty you like it)
1/2 cup roasted, salted peanuts,
1/2 cup miniature chocolate chips.
Instructions: Melt down chocolate, add green food coloring and peppermint extract. Stir over popcorn, peanut, chocolate chip mixtures until well coated. Done. 🙂
If you have not heard of caramel seed corn, let me be the first to get you in the know! It is a revelation if you like making coated popcorn recipes. It is like the popcorn that you buy in those tins at Christmas time. It pops into perfectly round kernels and leaves you with very little popcorn that is in small pieces or all broken up like traditional popping corn results. Try it, you will love it!
I am including a free printable of the tag that we used…. if you are a lucky (no pun intended) silhouette owner, click here for a print and cut. If you are still saving your money, click here for the pdf version that you can cut out yourself with the ol' scissors method 🙂