Halloween Canvas Wall Hanging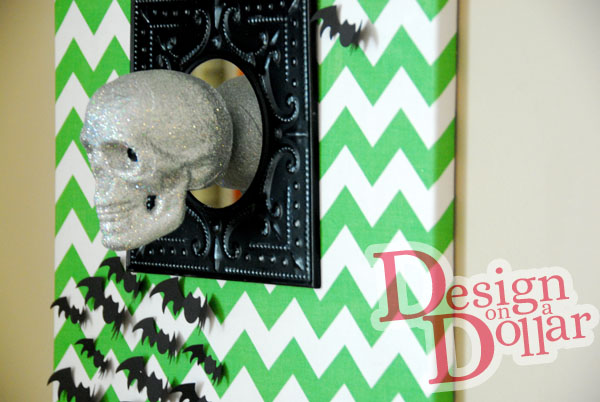 In a few days, I'll be posting about an amazing blogger's night out that took place at Gardner Village a few weeks ago. One of my favorite stores at the village (aren't they all?) is Pine Needles where you can find more fun fabric then you'll know how to handle. I went ahead and busted out this fun little project using a green chevron print fat quarter from their store. Did you know that a fat quarter will fit perfectly on a 16×20 canvas??? Sweet. I spent no money on this project…had everything on hand, but if you were purchasing supplies, it would be really inexpensive to make.
Canvas: Michael's Craft store
Fabric: Pine Needle's
Frame for Skull: $ Store..it was hot pink–gave it a coat of black spray paint and brought out the detail with some silver acrylic paint
Skull: $ Store, last year
Bats: The file you all got as a freebie…shrunk those babies down and cut a gazillion on my silhouette on a sheet of black 12×12 scrapbook paper.
Instructions: Modge Podge the fabric onto the canvas with a foam brush…I started at the top and glued a 1/3 of the canvas at a time, finishing off with the sides. It was super fast and easy…I then put a coat over the top as well so that the end result looked like I bought the canvas in a chevron print…you really can't tell that it is fabric glued on. Oh…and I watered down the glue a bit. Then, I glued on the frame and the skull and applied the bats with glue dots (a 10 minute job, promise). I just bent their wings up a bit to give it some dimension.
If you liked this little project…I've got another fun one in the works for next week that will cost you a couple bucks tops.